Chakra Chocolates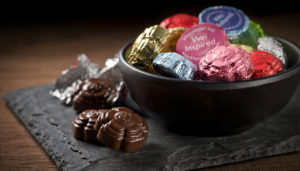 CHOCOLATE MAGIC FOR YOUR BRAIN!
Have you had a chance to discover Wei of Chocolate? It's chocolate that is good for your body, mind and spirit. But get this… there is scientific evidence that chocolate is also good for your brain!
 In a May 2016 issue of Appetite (a peer-reviewed journal published focusing on the behavioral sciences, particularly as it pertains to food intake), a large, longitudinal epidemiologic study1 reported that regular chocolate consumption had significant positive effects on the brain and behavior by improving cognitive function. These effects held true even after the results were adjusted to account for age as well as cardiovascular, lifestyle and dietary factors.
This study was conducted over 5 years with almost 1,000 people, and cognitive data collected was comprehensive. An extensive battery of neuropsychological tests was used to measure cognitive performance including visual-spatial memory, working memory, scanning and tracking, abstract reasoning, functions that translate to everyday tasks, "such as remembering a phone number, or your shopping list, or being able to do two things at once, like talking and driving at the same time."2
 Proposed mechanisms include the action of cocoa flavanols and methyxanthines in chocolate.
You won't find a higher quality chocolate than Wei of Chocolate! Founder, Lisa Reinhardt incorporates healing flower essences into each piece of this luscious, dark, organic, fair trade, non-dairy, non-GMO, non-soy chocolate – and it's sweetened with coconut sugar, and its velvety lusciousness melts in your mouth.
Now this is chocolate to give thanks for – and to share with someone you love!
Check out the Wei of Chocolate's delicious flavors and subscription options. And use coupon code RAINBOW to save 10% now through December 26th.
Here's to your health!
References: