Documentary Film Treatment: Candace Pert and the Molecules of Emotion
Log Line                                                    The Goddess of Neuroscience
Title of Documentary                        Candace Pert & The Molecules of Emotion
 Synopsis
Only 30 years ago, t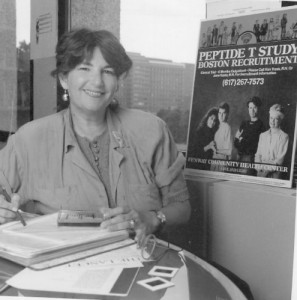 he concept of an integrated mind-body system was non-existent in Western medicine. But in the 1970s and 80s, the brilliant and bold scientific research of visionary Dr. Candace Pert (1946-2013) forever shattered the notion that the brain reigns supreme as the seat of intelligence, thought, memory and emotion. Her groundbreaking studies mapping the neuropeptides and their receptors throughout brain and body, together with her popular books, lectures, and CD's, paved the way for the emergence of a radical new paradigm that views the human being as a singular entity which Candace called the "BodyMind" – the entity that encompasses body, psyche and the "information" level of reality and humanity (often referred to as spirit). Her "Molecules of Emotion" act as an integral communication network in continual and elegant conversation throughout the mind and body, prompting Dr. Pert to propose that literally "Your body is your subconscious mind". Due to Candace's sense of limitless possibilities, as well as the research she conducted as Head of the Laboratory of Brain Biochemistry at the NIH, the scientific field of psychoneuroimmunology (PNI) or mind-body medicine (as it came to be called in the popular press) was born in the early 1980's.
Throughout her life, Candace Pert's work, vibrant personality, and her generosity of spirit touched millions of people. She taught us that hope, belief, experience and expectation shaped not only our perceived "realities", but our physical conditions as well. Sharing her findings directly with the public, she encouraged individuals to act as full participants in their physical and psychological wellbeing by employing the psychosomatic informational network that mediates emotional expression throughout brain and body, and between all forms of life. She was the first to bring modern scientific gravitas and credibility to the mind-body movement, paving the way for other doctors and scientists to follow. Deepak Chopra, who wrote the forward to her first book, eulogized at her 2013 memorial service saying, "without Candace Pert I would not be who I am today". Deepak and other luminaries of the Mind-Body movement will appear in the film to lend their stories of Candace and speak to her influences.
Her work has inspired countless scientists and doctors, psychotherapists, holistic practitioners, authors and seekers worldwide, providing a road-map for a new humanistic medicine that transforms people from being "broken clocks" in need of "fixing" to empowered individuals in control of their ownwellness, health, and happiness. Wildly popular with and beloved by the holistic medicine crowd, Dr. Pert was dubbed "the Goddess of Neuroscience" as well as "Mother of Psychoneuroimmunology".
Birth of Mind-Body Medicine in the early 1980's: Candace Pert,  an emotionally expressive person whose energy and enthusiasm often exploded like a Roman candle, was in no way the stereotypical dispassionate scientist.  With warmth and humor, Candace eagerly shared her scientific research directly with the public in understandable, engaging ways via lectures, television shows like Healing the Mind with Bill Moyers; Keys to Paradise, NOVA; films like What the Bleep Do We Know!?, and The State of Illusion; CDs like her Psychosomatic Wellness;  and her books, Molecules of Emotion and Everything You Need to Feel Go(o)d. She was committed to helping people employ these molecules of emotion – bridges between mind and body – to profoundly influence our health, our happiness, achieve bliss even, and to shape and experience our reality. Her innovative research and visionary thinking directly points us toward the transformation of our very notions of mind, consciousness, and reality.
Themes
This 60-minute film will share the moving account of a brilliant, often larger-than-life woman scientist who achieved substantial recognition and acclaim during her lifetime. We will trace the arc of Dr. Pert's professional life by telling the story of her discoveries, triumphs and obstacles in her own words, utilizing clips of the movies and television shows in which she appeared, lectures that have been recorded, her writings and CDs, as well as interviews of prominent people in the Mind-Body movement who knew her. We will bring Dr. Pert to life as a creative force, a room-filling energetic presence, an early feminist and activist who worked in a fiercely competitive world of male doctors and scientists, and who generated plenty of "controversy" along the way – but who never lost sight of her vision and goals, and the larger humanity she worked to serve. Throughout her life, Candace Pert fought tirelessly to achieve her dreams and ambitions for treatments, cures, and better health in the world by offering holistic modes of achieving better health.
Inexorably positive, joyful in outlook, and deeply engaged in the present moment, Candace Pert did not think outside the box – she maintained "There is no box". She lived an unbounded life, with little acceptance of so-called authority or others' perception of correctness or boundaries. She defied all of us to categorize her or draw any limitation around what she might accomplish. Her candor and her tenacity earned her the labels of "iconoclast" and "maverick" as well as "pioneer" and "creative genius". Her legacy continues to bless and inspire.
Who is in the Film?
The film will incorporate interviews with leading experts in the Mind-Body field, who will bring Dr. Pert to life by speaking to how her scientific research and theories influenced their own thinking. We have already interviewed and filmed Dr. Joan Borysenko, a Harvard trained scientist and pioneer of Mind-Body medicine, author of Minding the Body, Mending the Mind, and Dr. Hyla Cass, author of The Addicted Brain and How to Break Free, two luminaries in the Mind-Body medicine world. Dr. Deepak Chopra, a long time friend, is scheduled for July 18 filming, and Dr. Joe Dispenza, who appeared with Candace in the film What the Bleep Do We Know?! has agreed to appear – a filming date is being negotiated. Dr. Bruce Lipton, a highly influenctial contemporary of Candace's and author of The Biology of Belief (2005) is being asked to participate. We will also interview emerging, young author and holistic psychiatrist Dr. Kelly Brogan, NY Times best-selling author of A Mind of Your Own, who like Dr. Pert is a proponent of natural treatments for anxiety and depression.
Others who knew and admired Candace will also appear. Interviews have been completed with Steven Kennedy Smith (nephew of JFK and Senators Robert & Edward), a supporter of cutting edge science in mental health and a former director of a biotech company Dr. Pert founded, and Dr. Anne Young, former Chief of Neurology, Massachusetts General Hospital and grad student with Candace at the time Candace discovered the opiate receptor. Nancy Marriott, who was Dr Pert's lifelong friend and co-author on her book projects, as well as Naomi Judd, Grammy Award winning musician and motivational speaker, and friend of Candace, will also appear in the film.
Key Production Personnel 
Executive Producer:      Dr. Michael Ruff and The Institute for New Medicine (TINM)
The film will be produced by The Institute for New Medicine, a 501(c)(3) non-profit educational institute founded by Dr. Michael Ruff and Dr. Candace Pert to advance knowledge in the field of Mind-Body medicine. The film is intended to be an educational project of the Institute for a wide audience.
Dr. Michael Ruff, who was Dr. Pert's husband, partner, and scientific colleague, will also appear in the film.
Director/Writer/Producer: Raul Sandelin
Raul Sandelin, an experienced filmmaker, writer and college professor has directed/produced two feature-length documentary films: A Box Full of Rocks: The El Cajon Years of Lester Bangs and Ticket To Write: The Golden Age of Rock Music Journalism, along with numerous shorts. Raul has 25 years experience in business/communications, journalism, and creative writing and 15 years teaching experience at the college/university level.
Cinematographer/Editor: Tony Butler
Tony Butler has been in video production for over 20 years.  He worked for 16 years training video companies in production techniques around the world including Russia, Ireland, and Spain. Tony has worked on several projects with Raul Sandelin Films including A Box Full of Rocks: The El Cajon Years of Lester Bangs (2013) and Ticket to Write: The Golden Years of Rock Music Journalism (2016) as well as a film projectsabout Hollywood director Frank Capra, and a docu-parody about rock stars and mythological heroes titled Throttle the Sun.
Production Designer: Leonard Walker Torres
Len has been a designer for 45 years. In the mid-1970s, he befriended Deborah Szekely and, since then, has worked on countless design projects for Ms Szekely's Golden Door and Rancho La Puerta Spas, two preeminent destinations in the early "new age" and Mind-Body movements.
Production Assistant: Robert Houghton.
Rob began his journalism career when Creem magazine sent him to interview 14-year-old Michael Jackson in 1972. Since then, Rob has worked as a writer, grant writer, and researcher.
Narrator/VO: SuZanne Chavez, MD
An endocrinologist and public speaker, Dr. SuZanne Chavez lived many years in Baltimore. She received her medical degree from the University of Maryland and worked at the NIH.
Consultant/VO: Nancy Marriott, writer, friend since childhood, and co-auther with Candace on her books.