Healing the Hurting, Shining the Light CD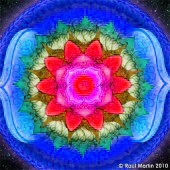 "Healing the Hurting, Shining the Light" was produced by Dr. Pert with her son, Brandon Pert, a musician-audio production expert and sound mixer, exclusively for sale here on her website. The main track, the chakra meditation, is 35 minutes long and uniquely combines induction into a relaxed state via breathing directions, lecture material, chakra affirmations and music composed according to a scientifically designed key and scale whose frequencies are harmonic with light spectrum.
An appreciation of the ancient wisdom of the chakra system, which corresponds to modern scientific discoveries about the location of neuropeptide-enriched nodal points along our bodies' longitudinal axis, can help us enter a relaxed state of mind where natural recuperation and recovery can occur. Learning new positive thought patterns is also facilitated so that we can permit conscious calm access to our "bodyminds" below the neck. So often folks today are unnecessarily stressed out instead of blissed out, spending time and energy on subconsciously focusing on irrelevant frantic survival patterns which no longer serve us.
Two very different musical pieces close out the CD, each chosen to reinforce and strengthen the newly learned positive, healing neurocircuits.
$15.00
(+ $3 shipping)