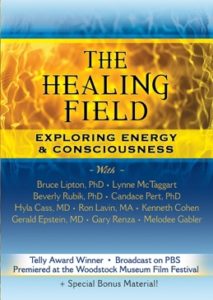 New PBS Documentary with Dr Candace Pert is airing in January 2017
No, not the one the Institute for New Medicine is producing,  but The Healing Field, a 2016 Telly Award winning documentary film by Penny Price.  Here is a 2 min clip of Candace from this film explaining how our thoughts, experiences, beliefs, expectations and emotions shape and filter our perceptions and outward (as well as inward) realities. These principles underlie the power of Mindfullness Meditations, Positive Thoughts, Emotional Expression, and Affirmations to sculpt the BodyMind in a direction toward wellness and integrity, or to unintentionally undermine these elements in a direction toward illness and distress. For a direct experience of these powerful techniques you might be interested in listening to one of Candace's several tapes or CD's, especially her guided Chakra Meditation in Healing the Hurting.
For the DVD trailer of the Penny Price documentary check out: "The Healing Field".  Or watch the whole DVD for more of Dr Pert and other acclaimed experts including Drs. Bruce Lipton, Hyla Cass, Beverly Rubik and other practitioners describe how energy medicine is changing our health, our society, and our future!  The full DVD is available at Penny Price Media, and will air on PBS next year!