Store
Healing the Hurting, Shining the Light
A Chakra Mediation for all your Bodyminds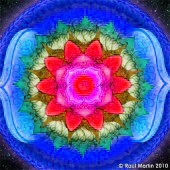 "Healing the Hurting, Shining the Light" is a 30-minute meditation that uniquely combines induction into a relaxed state via breathing directions, lecture material and chakra affirmations. The music is composed according to a scientifically designed key and scale whose frequencies are harmonic with light spectrum.
An appreciation of the ancient wisdom of the chakra system, which corresponds to modern scientific discoveries about the location of neuropeptide-enriched nodal points along our bodies' longitudinal axis, can help us enter a relaxed state of mind where natural recuperation and recovery can occur. Learning new positive thought patterns is also facilitated so that we can permit conscious calm access to our "bodyminds" below the neck. So often folks today are unnecessarily stressed out instead of blissed out, spending time and energy on subconsciously focusing on irrelevant frantic survival patterns which no longer serve us.
---
The Science of Golf and Life eBook
by Candace Pert PhD and Debbie Crews PhD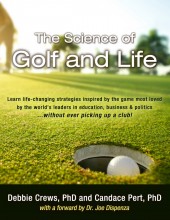 Have you ever wondered why the world's leaders in science, business, politics and education have a love (and in some cases, obsession!) for the game of golf?
The reason is that golf is more than just a game. It's a "mind-body" activity that ties together logical reasoning, intuition and a certain "6th sense" awareness that translate into success (or failure) on the golf course – and the principles can also be applied to life!
In this book you will learn:
how to set up your perceptions for better performance in all areas of life
how the brain creates patterns that can either set us up for rewards or failures
how emotions and bodily sensations are intricately intertwined
how to powerfully increase the mechanism of imagery in the brain that will power your goals
tips and techniques for setting goals and intentions that you can use throughout the day
…and much more!
The Science of Golf and Life eBook is a combination of the research of Candace Pert PhD, an internationally recognized pharmacologist, and Debbie Crews PhD, an LPGA Master Golf Instructor and Sport Psychology Consultant. It will change forever how you think about the game and life in general by demonstrating how golf functions as an arena through which we play out many of our life experiences, beliefs, patterns, and ways of "being."
It is a book for golfers, golf enthusiasts and people that have never played the game. In short, it is a book for anyone looking to become a better player in the game of life, and to excel at whatever they choose to do!
$12.95
---
Available Below:
Books
(Scribner, New York, 1997)
Why do we feel the way we feel? How do our thoughts and emotions affect our health? Are our bodies and minds distinct from each other or do they function together as parts of an interconnected system?
Translated in 10 languages and on best-selling lists for over 15 years, this groundbreaking book provides startling and decisive answers to these and other challenging questions that scientists and philosophers have pondered for centuries.
---
(Simon & Schuster, New York, 1999)
---
(Hay House, 2006)
Everything You Need to Know to Feel Go(o)d is Candace Pert's response to the questions she's been asked in her worldwide travels ever since the publication of her book Molecules of Emotion, and her appearance in the film What the Bleep Do We Know?! She discovered that, at the end of the day, all people really want to know is how to feel good.
---
Audio Lectures & Meditation CDs
Guided Meditations, Affirmations and Music to Heal Your Bodymind
If our bodies are in a state of constant vibration, can the right music tune our cells to good health? Dr. Candace Pert's research has revealed that it can. It has been proven that the molecules of our bodies—not just our ears and brains—actually resonate with the music we hear.
Psychosomatic Wellness features healing music and guided meditation created with cutting-edge scientific research about which sound frequencies allow us to achieve harmonious integration of our bodyminds, to literally reprogram every cell to a state of greater health. With flute, percussion, vocals, and bass.
---
How enlightened science can guide us into a state of oneness with the divine
To Dr. Candace Pert, "feeling good" and "feeling God" are one in the same. It may be surprising to hear a world-renowned biologist talking about God, yet Candace Pert is on the vanguard of a new breed of scientists who fearlessly explore the territory where science and spirit meet. On To Feel Go(o)d, listeners will experience the unique and charismatic style that has made Dr. Pert such a sought-after speaker. On this original audio, Pert blends lucid, accessible explanations of cutting-edge biology, stories of her remarkable personal experiences as she strives toward a cure for AIDS, and inspirational wisdom on how enlightened science can guide us into a state of oneness with the divine.
---
The secret of how emotions literally transform our bodies and create our health
Gain an inside look at the molecular drama being staged within every cell of the human body – and a glimpse into the future of medicine – with Your Body Is Your Subconscious Mind.
In her groundbreaking research, Dr. Candace Pert -a featured scientist in the film "What the Bleep Do We Know!?" – has unlocked the secret of how emotions literally transform our bodies and create our health. Now, in her own words, this bestselling author and world-class neuroscientist describes her extraordinary search over the past two decades for the grail of the body's inborn intelligence. Building on the material described in her landmark book, "Molecules of Emotion", Dr. Pert describes how our emotions directly influence the body's production of "information molecules," such as peptides and their receptors that regulate every aspect of human physiology. From the wisdom of the body to the wisdom of the laboratory, "Your Body Is Your Subconscious Mind" takes you on a scientific adventure of the first order, escorted by this pathfinder, iconoclast, and "goddess" of neuroscience.